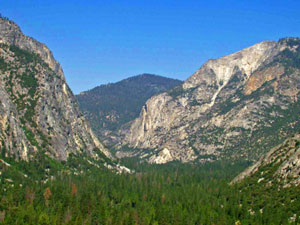 Kings Canyon National Park includes two enormous canyons of the Kings River and the summit peaks of the High Sierra dominate this mountain wilderness. Kings Canyon shares a border with Sequoia National Park.
Kings Canyon was established as General Grant National Park Oct. 1, 1890; renamed and enlarged into Kings Canyon National Park on March 4, 1940. Kings Canyon was designated a Biosphere Reserve 1976.
Total Acreage: 461,901, Federal: 461,845, Nonfederal: 55, Wilderness area: 456,552

Kings Canyon is located in California about 70 miles east of Fresno on Highway 180. Kings Canyon shares it's southern border with Sequoia National Park.