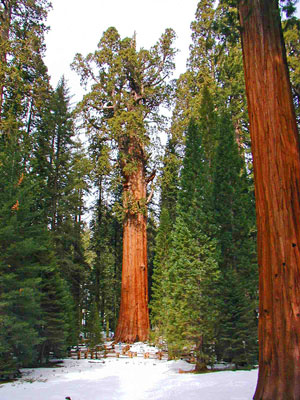 Sequoia National Park's great groves of giant sequoias, one of the world's largest living things, Mineral King Valley, and Mount Whitney, the highest mountain in the U.S. outside of Alaska, are spectacular attractions here in the High Sierra. Kings Canyon NP shares a northern border with Sequoia NP.
Sequoia was established as a National Park September 25, 1890 and was designated a Biosphere Reserve 1976.
Total Acreage:404,051, Federal:403,875, Nonfederal:175, Wilderness area: 280,428

Sequoia National Park is located in California 36 miles east of Visalia on Highway 198. Sequoia National Park shares it's northern border with Kings Canyon National Park.