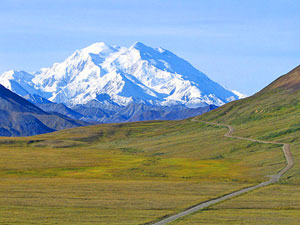 Denali National Park contains North America's highest mountain, 20,320-foot Mount McKinley. Large glaciers of the Alaska Range, caribou, Dall sheep, moose, grizzly bears, and timber wolves are other highlights of this national park and preserve.
Denali National Park was established as Mt. McKinley National Park February 26, 1917. A separate Denali National Monument was proclaimed December 1, 1978. Both parks were incorporated into Denali National Park and Preserve on December 2, 1980. Denali was designated a Biosphere Reserve 1976.


Total National Park Acerage: 4,740,911 Federal: 4,724,790 Nonfederal: 16,121. Total National Preserve Acerage: 1,334,117 Federal: 1,303,972 Nonfederal: 30,145 Wilderness area: 1,900,000
Denali is located in Alaska about 240 miles north of Anchorage and around 121 miles south of Fairbanks on Alaska Highway 3.