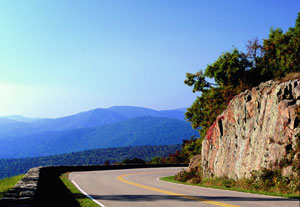 Shenandoah National Park's Skyline Drive winds along the crest of the Blue Ridge Mountains for 105 miles. The park, which includes 300 square miles of the southern Appalachians, offers the area's most famous scenic roadway and hiking trails (including the Appalachian Trail), wildlife viewing points, and an ever-changing hardwood forest.
Shenandoah NP was established Dec. 26, 1935 and dedicated July 3, 1936.
Total Acreage:199,045, Federal: 198,250, Nonfederal:794, Wilderness area: 79,579.

Shenandoah National Park is located in Virginia. The northern end starts around 75 miles west of Washington, DC just off of I-66 at Front Royal, Virginia. The southern end of Shenandoah National Park is about 30 miles west of Charlottsville off of I-64. The Blue Ridge Parkway's northern entrance starts where Shenandoah NP's ends.