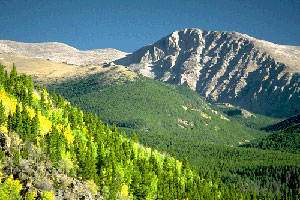 Rocky Mountain National Park's rich scenery, typifying the massive grandeur of the Rocky Mountains, is accessible by Trail Ridge Road, which crosses the Continental Divide. Peaks towering over 14,000 feet shadow wildlife and wildflowers in these 415 square miles of the Rockies.
Rocky Mountain NP was established January 26, 1915. Rocky Mountain NP was designated a Biosphere Reserve in 1976.

Total Acreage: 265,828, Federal: 265,461, Nonfederal:367.
Rocky Mountain National Park is located in northern Colorado around 70 miles northwest of Denver. Estes Park is the closest city and is at the park's eastern entrance.