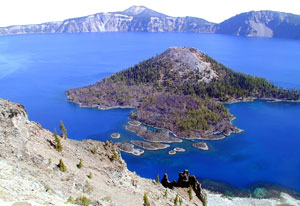 Crater Lake National Park protects Crater Lake which lies within the caldera of Mt. Mazama, a volcano of the Cascade Range that erupted about 7,700 years ago. The mountain collapsed, forming a caldera. Its greatest depth of 1,932 feet makes it the deepest lake in the United States.
Crater Lake NP was established May 22, 1902.
Total Acreage: 183,224, Federal: 183,223, Nonfederal: 0.28.

Crater Lake is located in southwestern Oregon about 86 miles northeast of Medford, Oregon.