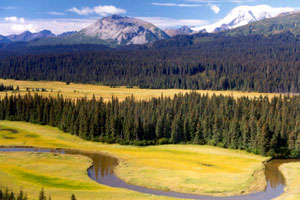 Lake Clark National Park is located in the heart of the Chigmit mountains, the park and preserve contain great geologic diversity, including jagged peaks, granite spires, and two symmetrical active volcanoes. Over a score of glacially carved lakes rim the mountain mass. Lake Clark, over 40 miles long, is the largest lake here and also the headwaters for red salmon spawning.
Lake Clark NP was proclaimed Lake Clark National Monument December 1, 1978; established as Lake Clark National Park and Preserve December 2, 1980.
National Park Acreage: 2,619,733, Federal: 2,226,807, Nonfederal: 392,926, National Preserve Acreage: 1,410,291, Federal: 1,209,360, Nonfederal: 200,931

Lake Clark National Park is located in southern Alaska about 1 hour southwest by float plane from Anchorage.