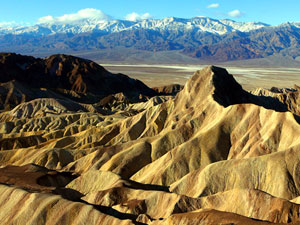 Death Valley National Park is a large desert, nearly surrounded by high mountains, and contains the lowest point in the Western Hemisphere at 282 feet below sea level at a place called Badwater. Death Valley includes Scotty's Castle, the grandiose home of a famous prospector; remnants of gold and borax mining and the famous Furnace Creek Inn.
Death Valley was proclaimed Death Valley National Monument on February 11, 1933; and redesignated Death Valley National Park on October 31, 1994. Death Valley was designated a Biosphere Reserve in 1984.
Total Acreage: 3,372,401, Federal: 3,323,771, Nonfederal: 48,630.

Death Valley is located in southwestern California on the border with Nevada. Death Valley is around 90 miles west of Las Vegas, Nevada and around 200 miles northwest of Los Angeles.