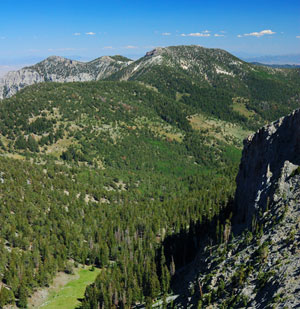 Great Basin National Park's major features include a remnant icefield on 13,063-foot Wheeler Peak, an ancient bristlecone pine forest, 75-foot limestone Lexington Arch, and the tunnels and decorated galleries of Lehman Caves.
Great Basin NP was proclaimed as Lehman Caves National Monument on January 24, 1922; and transferred from the Forest Service, U.S. Dept. of Agriculture, on August 10, 1933, finally it was made part of Great Basin National Park when established October 27, 1986.
Total Acreage: 77,180, all federal.

Great Basin National Park is located in eastcentral Nevada near the border with Utah. Great Basin NP is about 300 miles north of Las Vegas and around 240 miles west of Salt Lake City.