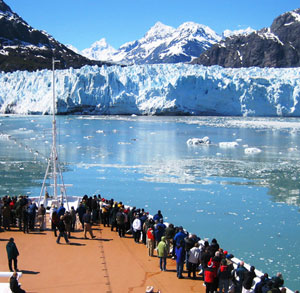 Glacier Bay National Park contains great tidewater glaciers, a dramatic range of plant communities from rocky terrain recently covered by ice to lush temperate rain forests, and a large variety of animals, including grizzly bears, mountain goats, whales, seals, and eagles, are found within this park.
Glacier Bay was proclaimed Glacier Bay National Monument on February 26, 1925 and established as Glacier Bay National Park and Preserve on December 2, 1980. Glacier Bay National Park and Preserve was designated a Biosphere Reserve in 1986 and was designated a World Heritage site December 14, 1992.


Total National Park Acreage: 3,224,840, Federal: 3,223,018, Nonfederal: 1,822, Wilderness area: 2,770,000, Total National Preserve Acreage: 58,406, all federal.
Glacier Bay is located in southern Alaska about 50 miles northwest of Juneau. There are no roads to Glacier Bar NP and you need to take a ferry, airplane or boat. The Glacier Bay Lodge and Visitors Center is located about 10 miles from Gustavas, Alaska.