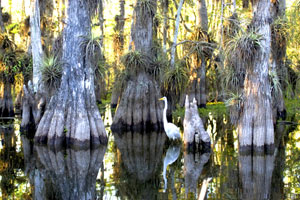 Everglades National Park is the largest remaining subtropical wilderness in the contiguous United States and has extensive fresh water and salt water areas, open sawgrass prairies, and mangrove forests. There is an abundance of wildlife in the Everglades that include rare and colorful birds, crocodiles, alligators, manatee, and the Florida panther to name a few.
Everglades National Park was established December 6, 1947. The Everglades National Park was designated a Biosphere Reserve in 1976 and a World Heritage Site on October 24, 1979.
Total Acreage: 1,508,537, Federal: 1,505,975, Nonfederal: 2,562, Water area: 625,000.

Everglades NP is located at the southern tip of Florida about 50 miles southwest of Miami.