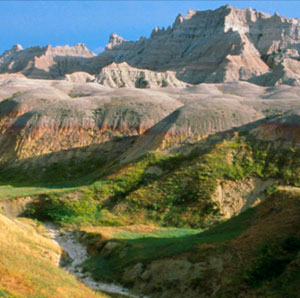 Badlands National Park carved by erosion, this scenic landscape contains animal fossils from 26 to 37 million years ago. Prairie grasslands support bison, bighorn sheep, deer, pronghorn antelope, swift fox, and black-footed ferrets.
Badlands was made a national monument January 24, 1939 and redesignated as a National Park on November 10, 1978.
Acreage—242,776 Federal: 232,822 Nonfederal: 9,934 Wilderness area: 64,250

Badlands is located in southwestern South Dakota and the closest major city is Rapid City.