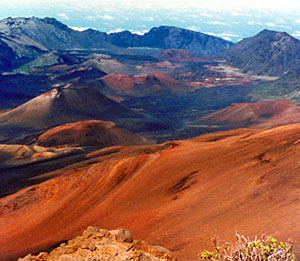 Haleakala National Park includes a variety of areas, from the summit to the ocean, protect fragile native Hawaiian ecosystems, rare and endangered species, and cultural sites.
Haleakala National Park was established as a part of Hawaii National Park, Haleakala Section Aug. 1, 1916; and renamed Haleakala National Park on September 13, 1960. Haleakala NP was designated a Biosphere Reserve 1980.
Total Acreage: 29,093, Federal: 29,093, Nonfederal: 0.15.

Haleakala NP is located in Hawaii on the island of Maui.