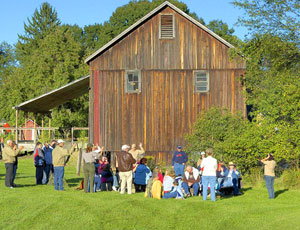 Cuyahoga Valley National Park preserves rural landscapes along the Cuyahoga River between Cleveland and Akron, Ohio. The 20-mile Ohio & Erie Canal Towpath Trail follows the historic route of the canal. Historic structures and natural features can be seen as the trail continues along the Ohio & Erie National Heritage Canalway.
Cuyahoga Valley NP was established as Cuyahoga Valley National Recreation Area on December 27, 1974; and redesignated as Cuyahoga Valley National Park on October 11, 2000.
Total Acreage: 32,855, Federal: 19,761, Nonfederal: 13,094.

Cuyahoga Valley National Park is located in Ohio between Cleveland and Akron, Ohio.