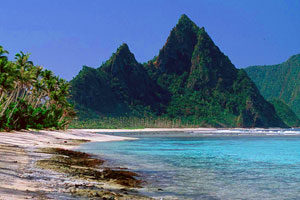 National Park of American Samoa includes paleotropical rain forests, pristine coral reefs, and white sand beaches on three volcanic islands in the South Pacific that are home to a variety of tropical animals, including the flying fox fruit bat. Overnights in villages are encouraged.
NP of American Samoa was authorized October 31, 1988 and a 50-year lease was signed September 9, 1993. The lands for this National Park are owned by the villages and are leased to the National Park Service.
Total Acreage: 9,000, all nonfederal, Water area: 2,500.

National Park of American Samoa is located in a remote part of the South Pacific and you will need to do some detailed planning to get there.