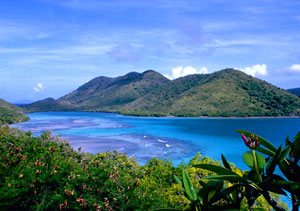 Virgin Islands National Park covers much of the island of St. John. Features include coral reefs, quiet coves, blue-green waters, and white sandy beaches fringed by green hills. There are also early Indian sites and the remains of Danish colonial sugar plantations.
Virgin Islands NP was authorized August 2, 1956 and was designated a Biosphere Reserve in 1976.

Total Acreage: 14,688, Federal: 12,916, Nonfederal: 1,772, Water area: 5,650.
Virgin Islands National Park is located on the U.S. Virgin Island of St. John and is accessible by ferry service.