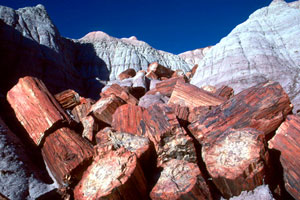 Petrified Forest National Park features petrified logs composed of multicolored quartz; shortgrass prairie; part of the Painted Desert; and archeological, paleontological, historic, and cultural resources.
Petrified Forest was proclaimed Petrified Forest National Monument on December 8, 1906; and redesignated Petrified Forest National Park on December 9, 1962.
Total Acreage: 93,532, all federal.

Petrified Forest is located in northeastern Arizona about 45 miles from the border with New Mexico on Interstate 40 and is around 112 miles east of Flagstaff, Arizona.