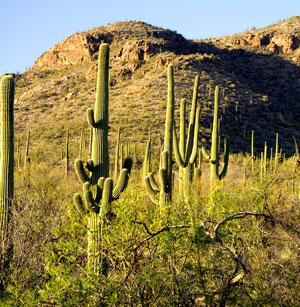 Saguaro National Park preserves Giant saguaro cacti, that are unique to the Sonoran Desert, and cover the valley floor and rise into the neighboring mountains. Five biotic life zones are represented, from desert to ponderosa pine forest in Saguaro National Park's Eastern Unit. There are also ancient petroglyphs. One of the best places to see petroglyphs is at the Signal Hill picnic area in Saguaro National Park Western Unit.
Saguaro NP was proclaimed Saguaro National Monument March 1, 1933; transferred from Forest Service, U.S. Dept. of Agriculture, Aug. 10, 1933; and redesignated as Saguaro National Park on October 4, 1994.
Total Acreage: 93,532, all federal.

Saguaro National Park is located in southern Arizona and borders Tucson, Arizona. The park is divided into an Eastern Division to the east of Tucson and a Western Division to the west of Tucson.