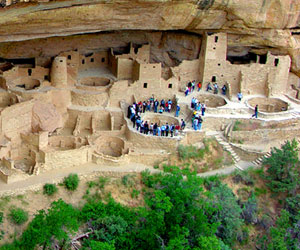 Mesa Verde National Park protects world-famous cliff dwellings and other works of the Ancestral Puebloan people. The Mesa Verde cliff dwellings are the most notable and best preserved in the United States.
Mesa Verde was established June 29, 1906 and designated as a World Heritage Site September 6, 1978.
Total Acreage: 52,485, Federal: 52,215, Nonfederal: 269.

Mesa Verda National Park is located in southwestern Colorado in the famous "four corners" region. Durango, Colorado is about 45 miles east and Cortez, Colorado is about 8 miles west of Mesa Verde National Park.