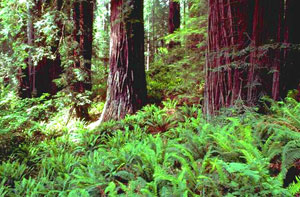 Redwood National Park preserves Coastal redwood forests with virgin groves of ancient trees, including the world's tallest, thrive in the foggy and temperate climate. The park includes 40 miles of scenic Pacific coastline.
Redwood NP was established on October 2, 1968. Redwood NP was designated a World Heritage Site September. 2, 1980 and made a Biosphere Reserve in 1983.
Total Acreage: 112,581, Federal: 77,779, Nonfederal: 34,802.

Redwood National Park is located in northern California on the coast around 40 miles north of Eureka, California on Highway 101.