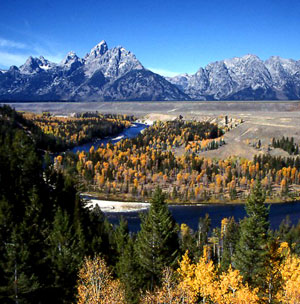 Grand Teton National Park features a rugged, awe-inspiring mountain range with numerous piedmont lakes nestled along its flanks, and the wide, sagebrush-covered valley of Jackson Hole.
Grand Teton NP was established February 26, 1929. On September 14, 1950 the original 1929 park and the Jackson Hole National Monument including a generous donation from John D. Rockefeller, Jr. were combined in to the "New" Grand Teton National Park, creating the present day park boundaries.
Total Acreage: 310,044, Federal: 307,744, Nonfederal: 2,299.

Grand Teton National Park is located just south of Yellowstone NP in western Wyoming and eastern Idaho just outside of Jackson Hole Wyoming.