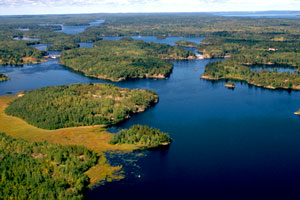 Voyageurs National Park is a waterway of four large lakes connected by narrows that was once the route of the French-Canadian voyageurs. Voyageurs NP has over 500 islands, and the lakes surround a peninsula of boreal forest.
Voyageurs NP was established April 8, 1975.
Total Acreage: 218,200, Federal: 133,121, Nonfederal: 85,078, Land area: 134,246, Water area: 83,808.

Voyageurs National Park is located in northern Minnesota on the Canadian border. Duluth, Minnesota is about 140 miles southeast of the park.