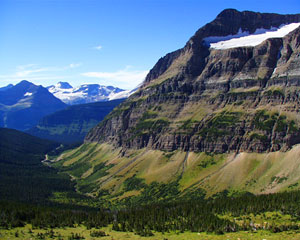 Glacier National Park is known as the Backbone of the World to the Blackfeet Nation, Glacier is known for its precipitous, jagged peaks ranging above 10,000 feet. This ruggedly beautiful land includes 25 remaining glaciers, hundreds of glacier-fed lakes and streams, an unparalleled variety of wildflowers, and abundant wildlife including grizzly bears, wolverines, and gray wolves.
Glacier NP was established May 11, 1910 and became part of Waterton-Glacier International Peace Park on June 30, 1932. Glacier National Park was designated a Biosphere Reserve 1976 and Waterton-Glacier International Peace Park became a World Heritage Site on December 9, 1995.
Total Acreage: 1,013,572, Federal: 1,013,154, Nonfederal: 417.

Glacier National Park is located in northwestern Montana on the Canadian border. Glacier's western entrance is about 25 miles northeast of Kalispell, Montana.