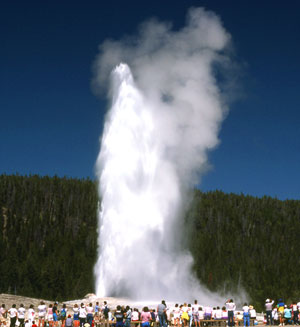 By Act of Congress on March 1, 1872, Yellowstone National Park was "dedicated and set apart as a public park or pleasuring ground for the benefit and enjoyment of the people" and "for the preservation, from injury or spoilation, of all timber, mineral deposits, natural curiosities, or wonders. . . and their retention in their natural condition." Yellowstone is the first and oldest national park in the world.
The commanding features that initially attracted interest, and led to the preservation of Yellowstone as a national park, were geological: the geothermal phenomena (there are more geysers and hot springs here than in the rest of the world combined), the colorful Grand Canyon of the Yellowstone River, fossil forests, and the size and elevation of Yellowstone Lake.

The human history of the park is evidenced by cultural sites dating back 12,000 years. More recent history can be seen in the historic structures and sites that represent the various periods of park administration and visitor facilities development.
Yellowstone Hotels, Lodging and Camping
Yellowstone has quite a collection of Lodges and Hotels in Yellowstone National Park.Summer lodges in Yellowstone include Cayon Lodge and Cabins, Grant Village, Lake Lodge Cabins, Lake Yellowstone Hotel and Cabins, Old Faithful Inn, Old Faithful Lodge Cabins, Old Faithful Snow Lodge and Cabins, Mammoth Hot Springs Hotel and Cabins and Roosevelt Lodge and Cabins. Winter Lodges include Mammoth Hot Springs Hotel and Old Faithful Snow Lodge and Cabins. There are eleven campgrounds in Yellowstone National Park. Mammoth Campground which is operated by the National Park Service is open year round.
Activities and Park Use in Yellowstone
Visitors engage in widely varied recreational activities including backpacking, bicycling, boating, crosscountry skiing, day hiking, fishing, horseback riding, visiting park highlights, picnicking, and wildlife viewing. The concessioner offers a variety of activities at Yellowstone including horseback riding, fishing trips, cruise rides, guided bus tours, snowmobile tours and bike rentals at various times throughout the year.
Climateof Yellowstone National Park
Summer: Daytime temperatures are often in the 70s (25C) and occasionally in the 80s (30C) in lower elevations. Nights are usually cool and temperatures may drop below freezing at higher elevations. Thunderstorms are common in the afternoons. Winter: Temperatures often range from zero to 20F(-20 to –5C) throughout the day. Sub-zero temperatures over-night are common. The record low temperature is –66F (-54C). Snowfall is highly variable. While the average is 150 inches per year, it is not uncommon for higher elevations to get twice that amount.
Spring & Fall: Daytime temperatures range from the 30s to the 60s (0 to 20C) with overnight lows in the teens to single digits (-5 to –20C). Snow is common in the Spring and Fall with regular accumulations of 12″ in a 24 hour period.
At any time of year, be prepared for sudden changes. Unpredictability, more than anything else, characterizes Yellowstone's weather. Always be equipped with a wide range of clothing options. Be sure to bring a warm jacket and rain gear even in the summer.

Visitation ofYellowstone
Almost 3million visitors visit Yellowstoneevery year. Visitation is highest in June, July, and August.
Location of Yellowstone National Park
Located primarily in the northwest corner of Wyoming, with portions extending into southwestern Montana and southeastern Idaho.
Trails and Roads at Yellowstone National Park
There is no public transportation provided within the park. Most visitors travel the 370 miles of paved roads in their personal vehicles. Concessionaires provide bus tours in the summer and snow-coach tours in the winter.
Adjacent Visitor Attractions to Yellowstone National Park
Yellowstone National Park is surrounded by numerous attractions. These attractionsinclude Grand Teton National Park to the South, many National Forests, National Wildlife Areas, State Parks and towns.