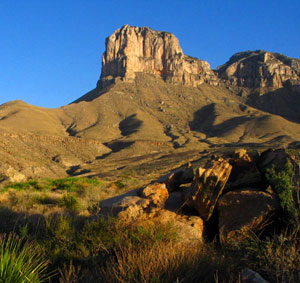 Guadalupe Mountains National Park is a lofty mountain mass rising out of the Chihuahuan desert that is part of the world's most significant Permian limestone fossil reef. The park includes spectacular canyons and unusual plants and animals.
Guadalupe Mountains NP was established September 30, 1972.
Total Acreage: 86,415, Federal: 86,189, Nonfederal: 226.

Guadalupe Mountains National Park is located in west Texas on the border with New Mexico and is about 56 miles southwest of Carlsbad, New Mexico and 107 miles east of El Paso, Texas.