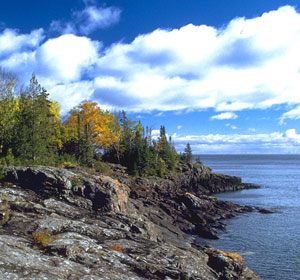 Isle Royal National Park protects the largest island in Lake Superior, and is distinguished by its wilderness character, timber wolves, moose herd, and pre-Columbian copper mines. You can only access the island by boat or float plane.
Isle Royal NP was established April 3, 1940 and designated a Biosphere Reserve in 1980.
Total Acreage: 571,790, Federal: 539,281, Nonfederal: 32,508, Land area: 133,781.

Isle Royal National Park is an island located in Michigan at the northwest corner of Lake Superior near the Canadian border. You can take a boat from Houghton, Michigan, Copper Harbor, Michigan, or Grand Portage, Minnesota. The Royale Air Service provides flights to Isle Royal from Houghton County Memorial Airport in Michigan.