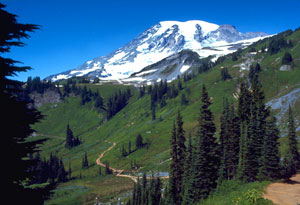 Mount Rainier National Park encompasses the greatest single-peak glacial system in the United States that radiates from the summit and slopes of an ancient volcano, with dense forests and subalpine flowered meadows below.
Mt. Rainier NP was established March 2, 1899. Mt. Rainier was designated a National Historic Landmark District in March 1997 to showcase 1920s and 1930s NPS Rustic style architecture.
Total Acreage: 235,625, all federal.

Mt. Rainier National Park is located in Washington State about 70 miles southeast of Seattle, Washington.