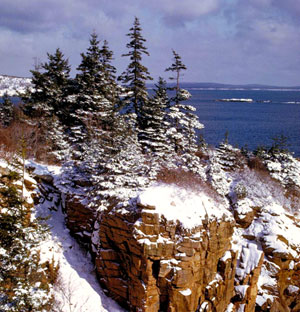 Though the affluent of the turn of the century came here to frolic, they had much to do with preserving the landscape that we know today. It was from this social strata that George B. Dorr came. He devoted 43 years of his life, energy, and family fortune to preserving the Acadian landscape.
In 1916, Sieur de Monts National Monument was created with 6,000 acres of land donated by individual landowners. In 1919, it became Lafayette National Park, the first national park east of the Mississippi River. In 1929, the name was changed to Acadia National Park.

Today, Acadia preserves about 40,000 acres of Atlantic coast shoreline, mixed hardwood and spruce/fir forest, mountains, and lakes, as well as several offshore islands.


Hotels, Lodging and Camping at Acadia
There are no hotels or lodges in Acadia National Park just two campgrounds. However the park is surrounded by many towns that have lodging. These towns include Bar Harbor, and Southwest Harbor. At Bar Harbor you can stay at Acadia Inn, Bar Harbor Grand Hotel, Bar Harbor Inn and the Bluenose Inn to name a few. There aretwo campgrounds in Acadia National Park. Blackwoods Campground is open year round and is located in the park. Blackwoods Campground is located five miles south of Bar Harbor on Route 3. Seawall Campground is open from May through September each year. Seawall Campground is located four miles south of Southwest Harbor.
Activities and Park Use in Acadia
Visitors engage in widely varied recreational activities including bicycling, boating, climbing, fishing, hiking, horseback riding, scenic driving and swimming. In the winter you can also go ice fishing, cross-country skiing, snowshoeing and snowmobiling on the 27-mile Park Loop Road.
Climate of Acadia National Park
Summers are generally warm, cooling off at night, sometimes dry, sometimes rainy. Winters are very cold and snowy. Always be prepared for cool weather, and dress in layers.
Visitation of Acadia
Over 2 million visitors visit Acadia every year. Highest in July and August; lowest in December, January and February.
Location of Acadia National Park
Mount Desert Island, Maine.
Trails and Roads at Acadia National Park
There are 120 miles of hiking trails and 45 miles of carriage roads for walking and biking. There is a 27 mile drive on Park Loop Road, which encompasses shoreline, forest and mountain scenery.
Adjacent Visitor Attractions to Acadia National Park
Acadia National Parkison an island and is surrounded by scenic harbors andtowns. These include Bar Harbor and Southwest Harbor. Also there are many state parks nearby.