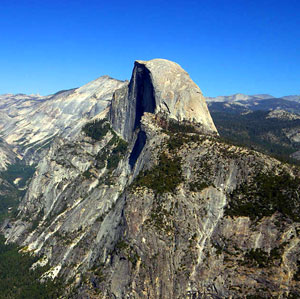 Yosemite National Park embraces almost 1,200 square miles of scenic wild lands set aside in 1890 to preserve a portion of the central Sierra Nevada that stretches along California's eastern flank. The park ranges from 2,000 feet above sea level to more than 13,000 feet and has these major attractions; alpine wilderness, three groves of Giant Sequoias and the glacially carved Yosemite Valley with impressive waterfalls, cliffs and unusual rock formations.

Yosemite Hotels, Lodging and Camping
Yosemite has quite a collection of Lodges and Hotels in Yosemite National Park. The Ahwahnee is a National Historical Landmark in Yosemite Valley. Other accommodations in the Yosemite Valley include Yosemite Lodge at the Falls, Curry Village and Housekeeping Camp. Wawona Hotel is near the south entrance. White Wolf Lodge and Tuolumne Meadows Lodge are on the Tioga Road. High Sierra Camps are located high in the wilderness accessible only by foot or saddle. There are 5 High Sierra Camps about 6 to 10 miles apart along a High Sierra's loop trail. There are thirteen campgrounds in Yosemite National Park four are open year round.
Yosemite Activities and Park Use
Viewing waterfalls and well-known rock features in Yosemite Valley; visit to Mariposa Grove of Giant Sequoias and historic Wawona area; drive or hike to Glacier Point, an overlook with a commanding view of Yosemite Valley, Half Dome and the High Sierra; drive to Tuolumne Meadows along Tioga Road and take a hike – numerous trailheads available.
Yosemite Climate
Weather can change rapidly during all seasons of the year at Yosemite. Elevation plays a major role in temperature and precipitation. Most of the moisture at Yosemite National Park comes in the months of January, February and March, and the winter climate is relatively mild. Sierra summers are typically warm and dry. April and November are transitional months at Yosemite Park, when warm, sunny days can suddenly become stormy. Clouds can build up during the summer to produce spectacular thunderstorm activity.
It is wise to pack for any season with clothing that can be "layered", ready to peel off or add on as the thermometer dictates. Always include some kind of rain gear.

Yosemite Visitation
Over 3 million visitors visit Yosemite every year. Highest in June, July and August; lowest in December, January and February.
Yosemite National Park Location
Yosemite, California
Yosemite Trails and Roads
One-hundred and ninety-six miles of paved roads within Yosemite, 840 miles of trails. Eight-miles of paved bike path in Yosemite Valley. Yosemite National Park's major sites can be viewed by automobile. Some trails and facilities are wheelchair accessible.
Adjacent Visitor Attractions to Yosemite National Park
Yosemite National Park is surrounded byNational Forest. The closest town is El Portal at the Western Entrance. Kings Canyon National Park and Sequoia National Park are about 160 miles to the Southeast of Yosemite.