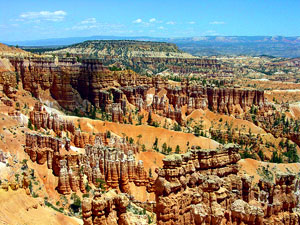 At Bryce Canyon National Park, erosion has shaped colorful Claron limestones, sandstones and mudstones into thousands of spires, fins, pinnacles, mazes and walls. Collectively called "hoodoos," these colorful and whimsical formations stand in horseshoe-shaped amphitheaters along the eastern edge of the Paunsaugunt Plateau in southern Utah. The park is located at around 8,000 feet and is just 80 miles northeast of Zion National Park by road.

Bryce Canyon Hotels, Lodging and Camping
The Bryce Canyon Lodge build in 1925 is the only lodging in Bryce Canyon National Park. Bryce Canyon Lodge is open from April 1st to November 1st every year and has 114 rooms. Two miles outside Bryce Canyon's entrance is the Rubys Inn at Bryce Canyon that has been serving travelers since 1916. It is now the Best Western Rubys Inn.The Best Western Ruby's Inn has 386 rooms. Rubys Inn also has a 200 campsite Campground and RV Park. There are two campgrounds in Bryce Canyon National Park. The North Campground that is open year round with 107 sites and the Sunset Campground,which is closed in the winter, has 101 sites.
Activities and Park Use in Bryce Canyon
Visitors engage in widely varied recreational activities including sight-seeing, hiking, camping, backpacking, photography, horseback riding, cross-country skiing, snowshoeing, bird watching and other wildlife observation, star gazing, contemplation, relaxation. The park offers wrangler-guided 2 and 4 hour horseback riding tours of the park. Outside the parks boundary Guided ATV tours and Jeep tours are offered in the surrounding BLM and Forest Service Lands.
Climate of Bryce Canyon National Park
At 8,000-9,000 feet, summer days are pleasant (80's) and nights are cool (40's). Afternoon thundershowers are common during mid- to late summer. Spring and fall weather is highly variable. Cold winter days are offset by high altitude sun and dry climate. Winter nights are subfreezing. March is the snowiest month, but snowstorms can occur October through April. Annual snowfall averages 95 inches, providing cross-country skiing and snowshoeing opportunities. The high altitude sun can burn in any season–hats and sunscreen are recommended all year. Layered clothing is good preparation for the plateau's temperature extremes and frequent strong winds. Boots with good traction and ankle support are strongly recommended for hikes into the canyons.
Visitation of Bryce Canyon
Over1million visitors visit Bryce Canyon every year. Visitation peaks from June through September and is at its lowest in December, January and February.
Location of Bryce Canyon National Park
Bryce Canyon is located in south-central Utah, approximately 85 miles northeast of Zion National Park.
Trails and Roads at Bryce Canyon National Park
The 18-mile main park road winds along the edge of the plateau, terminating at the south end of the park. Return to the entrance via the same road. Spur roads and pullouts offer opportunities for viewing and trailhead parking. The park has over 50 miles of hiking trails with a range of distances and elevation change.
Adjacent Visitor Attractions to Bryce Canyon National Park
Southern Utah abounds in outdoor recreational activities. Many national parks, monuments and recreation areas are clustered in the "four corners" area. State Parks and Bureau of Land Management and US Forest Service areas complement the National Park Service areas with opportunities for mountain biking, hiking, cross-country skiing, camping, fishing, hunting, four-wheel driving, and snowmobiling.