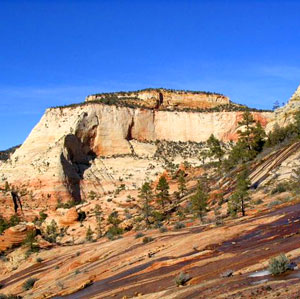 Protected within Zion National Park's 229 square miles (593.1 km) is a spectacular cliff-and-canyon landscape and wilderness full of the unexpected including the world's largest arch – Kolob Arch – with a span that measures 310 feet (94.5 m). Wildlife such as mule deer, golden eagles, and mountain lions, also inhabit the Park. Mukuntuweap National Monument proclaimed July 31, 1909; incorporated in Zion National Monument March 18, 1918; established as national park Nov. 19, 1919.

Zion Hotels and Lodging
The Zion Lodge is the only in-park hotel at Zion National Park. The original Zion Lodge was built in the 1920's and was destroyed by fire in 1966. The new Zion Lodge was rebuilt the same year. The Zion Lodge is broken down into several types of accommodations. There are 40 cabins, 75 motel rooms and six suites located on the grounds of the Zion Lodge. Here is a great Virtual Tour of Zion Lodge with lots of pictures and this is the Official Xanterra Zion Lodge site. There is also plenty of Zion National Park Lodging just outside of Zion's southern entrance at Springdale, Utah, including the Canyon Ranch Motel, the Desert Pearl Inn, the Pioneer Lodge, the Best Western Zion Park Inn, the Quality Inn at Zion Park, the Majestic View Lodge, the Zion Park Motel and the Bumbleberry Inn.
Activities and Park Use in Zion
Overlooks and trails abound along scenic drives through Zion, and there are ranger programs at most developed areas year round. Zion provides wonderful opportunities for:
Hiking – Zion offers many trails ranging from short "leg-stretcher" walks to the strenuous adventures.
Wildflowers & Fall Colors – The variety of mountain and canyon environments makes Zion an excellent location for wildflower walks in the spring and summer and brilliant leaf color in the autumn.
Photography – Zion offers the photographer many opportunities to explore color, texture, and light.
Birdwatching – Zion is home to 271 species of birds. A bird checklist can be obtained at the visitor centers.
Bicycling – The Pa'rus Trail offers a paved, car-free alternative for bicyclists, pedestrians, and people with strollers or wheelchairs to visit lower Zion Canyon and access the Scenic Drive.
Ranger-led activities – During the summer, join a Park Ranger to learn more about Zion National Park. Topics include geology, plants, animals, human history and other features. Programs include guided walks, short talks at the visitor centers and evening programs at the campground amphitheaters and Zion Lodge. All programs are free. Check the weekly schedules posted at visitor centers and bulletin boards throughout the park for times, places, and subjects.
Climate of Zion National Park
Be prepared for a wide range of weather conditions. Temperatures vary with changes in elevation and seasons. Day/night temperatures may differ by over 30 degrees Fahrenheit.
Spring weather is very unpredictable. Stormy, wet days are common, but warm, sunny weather may occur too. Precipitation peaks in March and September. Spring wildflowers bloom from April through June, peaking in May.
Summer days are hot (95-100 degrees F.), but overnight lows are usually comfortable (65-70 degrees F.) Afternoon thunderstorms are common from mid-July through mid-September. Storms may produce waterfalls as well as flash floods.
Fall days are usually clear and mild; nights are often cool. Autumn color displays begin in September in the high country, and in Zion Canyon in early November.
Winters in Zion Canyon are fairly mild. Winter storms bring rain or light snow to Zion Canyon, but heavier snow to the higher elevations. Clear days may become quite warm, reaching 60 degrees F.; nights are often in the 20s and 30s. Winter storms can last several days and cause roads to be icy, especially on the east side of Zion. Zion roads are plowed, except the Kolob Terrace Road, which is closed in winter. Be prepared for winter driving conditions from November through March.
Visitation of Zion
Over2.5million visitors visit Zion every year. The highest visitation is in the Summer months and the lowest visitation is in the Winter.
Location of Zion National Park
Southwest Utah, on the edge of the Colorado Plateau.
Trails and Roads at Zion National Park
From April through October the access into Zion Canyon on the Zion Canyon Scenic Drive is only by shuttle bus. Private vehicles are allowed from November through March on the Zion Canyon Scenic Drive. The shuttle bus leaves from the Zion Canyon Visitors Center. Parking is limited in Zion National Park and you may need to park in Springdale at the Southern entrance and that the Springdale Shuttle to the Zion Canyon Visitors Center.
Adjacent Visitor Attractions to Zion National Park
Southern Utah abounds in outdoor recreational activities. Many national parks, including Bryce Canyon National Park, are nearby. Numerous Utah State Parks, Bureau of Land Management and US Forest Service areas complement the National Park Service areas with opportunities for hiking, mountain biking, cross-country skiing, fishing, hunting, camping, four-wheel driving, and snowmobiling.