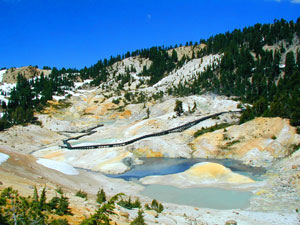 Lassen Volcanic National Park was created to encompass Lassen Peak, which erupted intermittently from 1914 to 1921. Lassen's active volcanism includes boiling springs, steaming fumaroles, mud pots, and sulfurous vents.
Lassen Volcanic NP was proclaimed as Lassen Peak and Cinder Cone National Monuments May 6, 1907; made part of Lassen Volcanic National Park when established Aug. 9, 1916.
Total Acreage: 106,372, Federal: 106,368, Nonfederal: 4.

Lassen NP is located in northern California about 50 miles east of Redding, California and around 195 miles north of Sacramento.