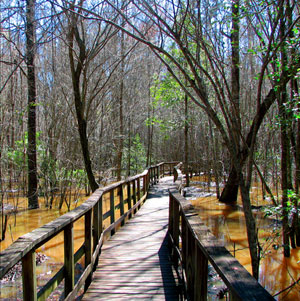 Congaree National Park protects the last significant tract of southern bottomland hardwood forest in the United States. It is home to a rich diversity of plant and animal species associated with an alluvial floodplain. Several national and state record trees are in the park.
Congaree NP was authorized October 18, 1976 as Congaree Swamp National Monument; and redesignated as Congaree National Park on November 10, 2003. Congaree NP was designated a Biosphere Reserve in 1983.
Total Acreage: 26,545, Federal: 21,768, Nonfederal: 4,777.

Congaree National Park is located in central South Carolina about 25 mile southeast of Columbia.