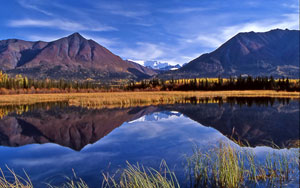 Wrangell Saint Elias National Park include the Chugach, Wrangell, and St. Elias mountain ranges that converge here in what is often referred to as the "mountain kingdom of North America." The Wrangell St. Elias National Park is the largest unit of the National Park System. The park and preserve include the continent's largest assemblage of glaciers and the greatest collection of peaks above 16,000 feet, including Mount St. Elias. At 18,008 feet Mount St. Elias is the second highest peak in the U.S. after Mt. McKinley in Denali National Park.
Wrangell Saint Elias was proclaimed Wrangell-St. Elias National Monument December 1, 1978; and established as Wrangell-St. Elias National Park and Preserve on December. 2, 1980. Wrangell Saint Elias was designated a World Heritage Site October 24, 1979.
National Park Acreage: 8,323,147, Federal: 7,662,705, Nonfederal: 660,442, National Preserve Acreage: 4,852,753, Federal: 4,002,707, Nonfederal: 850,045.

Wrangell-St. Elias is located in southeastern Alaska and shares it's eastern border with Kluane National Park in Canada. The park is about 250 miles by road east of Anchorage.