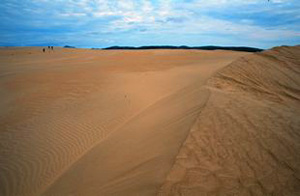 Kobuk Valley National Park embraces the central valley of the Kobuk River. The park, located north of the Arctic Circle, includes a blend of biological, geological, and cultural resources. At Kobuk Valley National Park, in the northernmost extent of the boreal forest, a rich array of arctic wildlife can be found, including caribou, grizzly and black bear, wolf, and fox. There are very LIMITED FEDERAL FACILITIES.
Kobuk Valley was made a national monument December 1, 1978; and established as Kobuk National Park December 2, 1980.
Total Acreage:1,750,716; Federal: 1,669,912; Nonfederal:80,803; Wilderness area: 190,000.

Kobuk Valley is located in northwestern Alaska above the Arctic Circle and is very remote. The park is accessible by boat or plane from Kotzebue, Alaska. Kobuk Valley is located just west of Gates of the Arctic National Park.