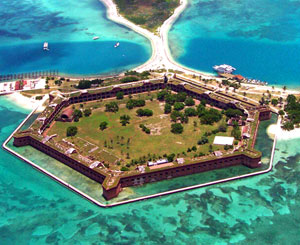 Dry Tortugas National Park includes Fort Jefferson which was built from 1846 to 1866 to help control the Florida Straits. It is the largest all-masonry fortification in the Western world. The bird refuge and marine life are notable features of the park. Snorkeling, birdwatching and enjoying Fort Jefferson are some of the highlights of a trip to the Dry Tortugas.
Dry Tortugas NP was proclaimed Fort Jefferson National Monument January 4, 1935 by President Franklin Roosevelt; and renamed and redesignated as Dry Tortugas National Park on October 26, 1992
Total Acreage: 64,701, Federal: 61,481, Nonfederal: 3,220, Land area: 39.

Dry Tortugas National Park is located in the Florida Keys about 70 miles south of Key West.