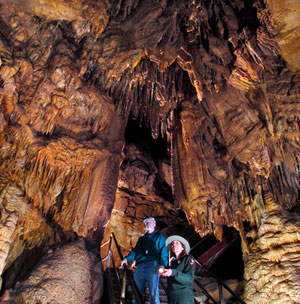 Mammoth Cave National Park was established to preserve the cave system, including Mammoth Cave, the scenic river valleys of the Green and Nolin rivers, and a section of the hilly country of south central Kentucky. This is the longest recorded cave system in the world, with over 350 miles explored and mapped.
Mammoth Cave NP was established July 1, 1941. Mammoth Cave was designated a World Heritage Site on October 27, 1981 and designated a Biosphere Reserve 1990.
Total Acreage: 52,830, Federal: 52,003, Nonfederal: 826.

Mammoth Cave National Park is located in southwestern Kentucky northeast of Bowling Green just off of Interstate 65.