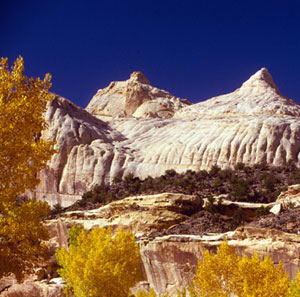 Capitol Reef National Park preserves the 100-mile-long Waterpocket Fold, an uplift of sandstone cliffs with highly colored sedimentary layers. Dome-shaped white-cap rock accounts for the name. Preserved is rock art of the Fremont Culture and a historic Mormon settlement.

Capitol Reef was made a National Monument on August 2, 1937 and redesignated a National Park on December 18, 1971.
Acreage-241,904 Federal: 241,234 Nonfederal: 669

Capitol Reef is located in southcentral Utah. The closest town is Torrey, Utah on state highway 24.