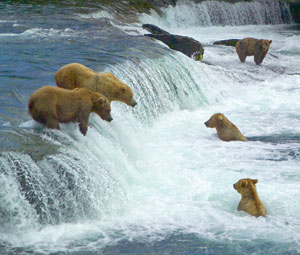 Katmai National Park is a vast land of: lakes, forests, mountains, and marshlands that abound in wildlife. The Alaska brown bear, the world's largest carnivore, thrives here, feeding on red salmon that spawn in the lakes and streams. Wild rivers and renowned sport fishing add to the attractions of this subarctic environment. Here, in 1912, Novarupta Volcano erupted violently, forming the ash-filled "Valley of Ten Thousand Smokes" where steam rose from countless fumaroles.
Katmai was proclaimed Katmai National Monument Sept. 24, 1918; and established as Katmai National Park and Preserve December 2, 1980.
Total National Park Acreage: 3,674,529, Federal: 3,611,708, Nonfederal: 62,821, Wilderness area: 3,473,000. Total National Preserve Acreage: 418,699, Federal: 405,432, Nonfederal 13,267.

Katmai National Park is located in southern Alaska around 320 miles south of Anchorage and is accessible only by boat or plane.