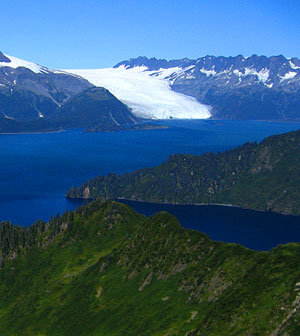 Kenai Fjords National Park includes one of the four major ice caps in the U.S., the 300-square-mile Harding Icefield, and coastal fjords. Here a rich, varied rain forest is home to tens of thousands of breeding birds, and adjoining marine waters support a multitude of sea lions, sea otters, and seals. The visitor center is in Seward, 10 miles from the park.
Kenai Fjords was proclaimed a national monument December 1, 1978; and established as Kenai Fjords National Park December 2, 1980.

Total Acreage:669,982 Federal: 601,839, Nonfederal:68,143


Kenai Fjords is located in southern Alaska about 10 miles from Seward and is a 130 miles south of Anchorage on Alaska Highway 9.