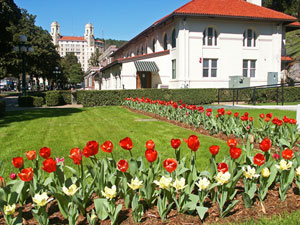 Hot Springs National Park has 47 hot springs, numerous hiking trails, and scenic drives that are located in the forested Ouachita Mountains. Eight historically and architecturally significant bathhouses compose Bathhouse Row, a National Historic Landmark District. Thermal bathing continues today.
Hot Springs was established as Hot Springs Reservation April 20, 1832; and dedicated to public use as a park June 16, 1880. The park was redesignated as Hot Springs National Park on March 4,1921.


Acreage – 5,549, Federal: 4,932, Nonfederal: 616
Hot Springs is located in Hot Springs Arkansas. Little Rock is 56 miles northeast.